MathsCity is the home of hands-on maths, located in the heart of Leeds.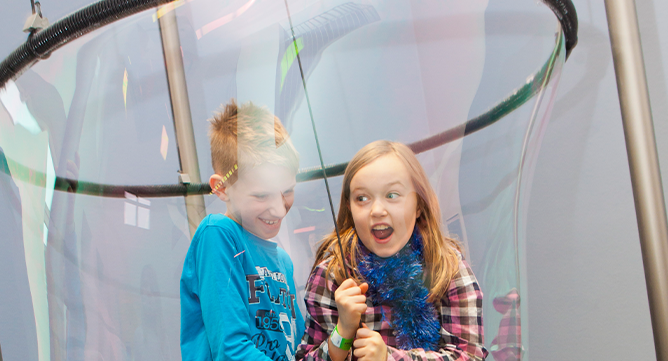 Climb inside a giant bubble or a kaleidoscope. Try our laser Ring of Fire. Meet the challenge of our fascinating puzzles. Explore and discover the wonderful and surprising world of mathematics at MathsCity with over twenty interactive exhibits.
Set in buzzing Trinity, Leeds, you can complement your visit with great food, shopping or the cinema.
MathsCity is a MathsWorldUK production. MathsWorldUK aims to create the UK's first National Mathematics Discovery Centre, an interactive space in which visitors will enjoy and appreciate the power and importance of mathematics as a tool for understanding the world in which we live.

Mathematics… is the best game that has ever been invented. It beats Monopoly, it beats chess and it happens that it can enable you to land rockets on the moon.
MathsCity
(MathsCity is near Trinity Kitchen. We are between the upstairs of Boots and the Trinity Customer Service lounge)
Address: Trinity shopping centre Albion St, Leeds LS1 5AT
Open in google maps
Opening times
Tues – Fr: 10am – 4pm
Sat – Sun: 10am-5pm
Note we have added opening hours in school holidays.
contact
07469 195730
mathscity@mathsworlduk.com